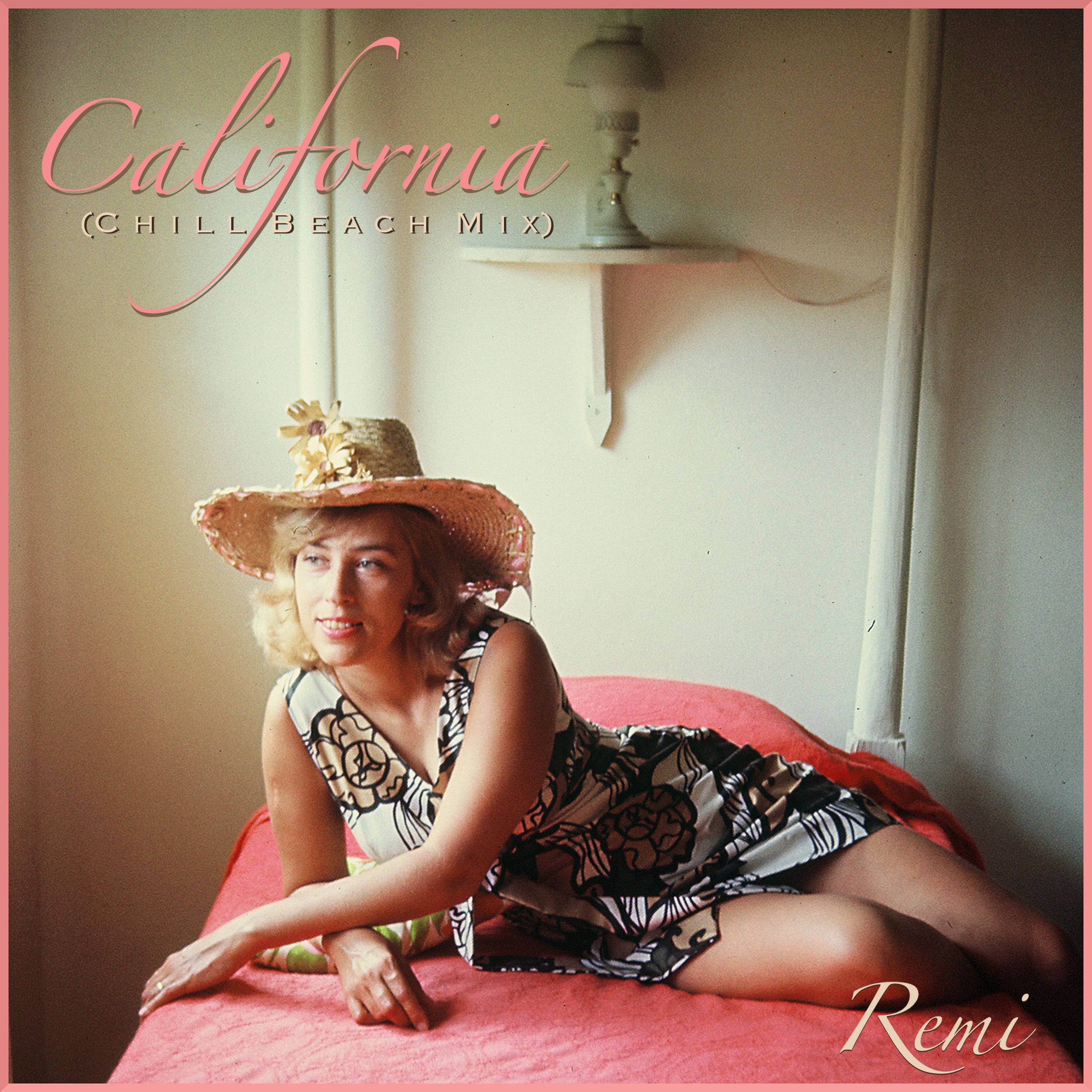 This song expresses one of my deepest desires - to escape the Midwest winters and trade in pine trees for palm trees. That's my mom on the cover! Circa 1960's - the original California girl. This remix is a nod to the Great American Songbook with a twist. Picture Michael Buble' with his lovely wife Luisana on a California beach, sipping mojitos with Peggy Lee & Bebel Gilberto - Cheers!
From the earth to the sky and beyond, there's unity in our diversity
Uniting humankind one song at a time.
Read more…
close
Bringing positivity into the world one song at a time - music to inspire change!
I love kick starting my day with a double shot of espresso and the emotion in this song gives me that same lift - like I could accomplish anything I put my mind to. I hope to inspire listener's to follow their heart and follow their dreams and just go for it - just do it!
Read more…
close
In the Heat of the Night
Remi
California (Soul Coast Mix)
Remi
Trade in the snow and the cold for a California dream!
I love creating music that transports you somewhere else - like taking a mini audio vacation! I wanted to do something fresh and unexpected with this melody. It would work well as a standard, classic arrangement but I wanted to color outside the lines on this one. I love smooth, soulful grooves and vibes so I went well outside the box in choosing grooves and textures that you wouldn't expect with a "Great American Songbook" style melody. A perfect song for mentally escaping cold, long winters!
Read more…
close
House Cleaning - Single
Remi
Former Warner//Reprise recording artist (of Morris Day's "Day-Z's") flashes back to a warm, retro vibe with 12 bit samplers, analogue synths and tape recording - no Pro Tools or Auto Tune here - this is Old School baby!
I've heard it said that a person's external environment mirrors one's internal environment. While the title "House Cleaning" might not seem like something to sing about, I use it as a metaphor for taking a look inside to clear out all the clutter that holds us back in life and in love. -Remi™
Biography Music, dance and art have always been a part of Remi's life. "For a time I wanted to be a painter," Remi recalls, "but music won out with dance as a close second. My grandfather was a great inspiration to me - he was a Vaudeville entertainer and my biggest fan!"
A graduate of California Institute of the Arts (Valencia, CA.), Remi studied world music and dance with teachers from West Africa, India and Indonesia. "As a Minneapolis native, born and raised on home grown funk and R&B, Cal Arts offered a rare opportunity to learn from native masters. I felt an immediate connection with my teachers and the way in which each of the cultures they represented embraced music, dance and community as unifying and inseparable elements".
Remi signed her first publishing deal with Macy Lipman's publishing company Le Grande Fromage. She went on to land her first road gig with Babyface prodigy Karyn White as keyboard player, vocalist and dancer. Soon after, Remi signed her first recording contract with Warner/Reprise with an all female band produced by Morris Day of "The Time". "This is when it all started happening for me" Remi recalls. "Ironically, I moved from Minneapolis to LA and ended up working with artists and producers that I had always admired from my hometown!" Additional tours followed including Motown recording artist Teena Marie and as keyboard player and duet partner to David Cassidy and Grammy Award winner Christopher Cross. Her studio collaborations have included Giorgio Moroder, Howard Hewett and Rachel Rachel. You may recognize her from appearances on Good Christian Bells, Felicity, Fame LA, Freaky Links, Melrose Place and as the on-camera keyboard player/musical director for the FOX show Comedy Express.
Remi broadened her musical scope by adding DJ/MC to her professional keyboard player/vocalist resume. In looking for ways to expand the DJ experience, her project "Tribe 1" was born which brought together the best of both worlds – live band and DJ tracks. "I found a way to inject a live element into DJ tracks with "Tribe 1" by working with some of the most talented musicians on the planet. We take guitar, percussion and drums to bring a fresh, live vibe to all of the most current and classic DJ mixes. Tribe 1 is often perceived as a band but it knows no limitations when it comes to the play list!"
Remi is a featured artist on the Universal Italia compilation Groove 90, with her first single "In the Heat of the Night" currently being promoted to 3800 radio stations throughout Italy. Additionally, Remi has 2 songs featured on Café de Souls Vol. 1 compilation with airplay in both the UK and Netherlands. You can also hear her song Last Night in the independent film The Ten Rules.
Read more…
close
I Will See Your Smile Again
Remi
In loss there is light.
With the recent and tragic loss of my brother at the hand of a very troubled man, I'm learning that there is light within loss. This is for my brother and my dearest loved ones for whom I grieve, miss dearly, love and long to hold. I know deep down in my soul, when I sing "I will see your smile again" I know it to be absolutely true. May this song bring light to those experiencing loss.
Read more…
close